A1 Roofing Portsmouth Offer Portsmouth With High Quality Slate Roofing To Increase Property Value And Aesthetic Appeal
Achieve your Portsmouth home improvement goals in both form and function with slate roofings charming design and durability. Countless property owners choose a slate roofing system because not only do they last for many years but they also lend beauty to a Portsmouth property that evokes nature. If you feel that your home will benefit from this type of roof, let A1 Roofing Portsmouth be your partner in transforming your home for the better. Our customers in Portsmouth from homeowners to property developers have come to rely on our team of accredited and experienced roofing specialists to provide them with the top quality slate roofing systems that A1 Roofing Portsmouth is famous for. A1 Roofing Portsmouth customers in the Portsmouth area have enjoyed the benefits of having our fully licensed and accredited roof specialists with more than 10 years experience working on their slate roofing system. A1 Roofing Portsmouth take customer satisfaction seriously which is why we have full insurance coverage and use only the best materials and advanced technology, ensuring our projects are done efficiently and safely. A1 Roofing Portsmouth customers enjoy the benefits of quality service at rates they can afford.
Our Guarantee
---
Free site visit and survey
No hidden costs
British standards compliant
Fully Insured
Clean and efficient
Professional workmanship
Guaranteed To Last Long
By providing value for money services, we at A1 Roofing Portsmouth can boast of repeat business from long time clients. Slate is among those roofing materials that can last for a long time. It can last twice as long as other types of roofing materials. This is why slate roofing products come with a guarantee for 100 years. This is why they are the first choice for those who plan to keep their Portsmouth homes for just as long. Mold and fungus dont grow on its surface as well, which limits the need for frequent cleaning or maintenance.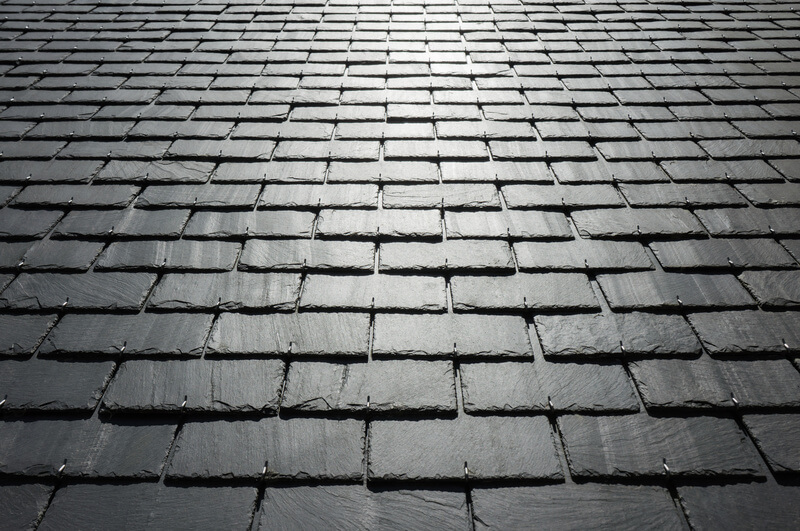 If youre based in Portsmouth and will like to know more about our slate roofing solutions, call our friendly and helpful customer care agents on 023 9309 2347 now. Avail of a free no obligation quote whenever you call to enquire on the roofing systems that A1 Roofing Portsmouth can provide you.
Reasons Why Your Portsmouth Property Would Benefit From Slate Roofing
There are people who would point out that slate roofing is complicated and can cause problems due to their weight. But this issue can be overcome by a roofing company that is established as an expert in installing these roofs in various types of properties. The advantages of a slate roof versus other types become apparent when the roofing project is done by a top roofing company like A1 Roofing Portsmouth that takes pride in the level of attention they pour into their work.
One of the most appealing qualities of slate roofing is its natural beauty. Installing a slate roof tiles require expertise in order to ensure that this type of roofing system would fit a property regardless of its overall design. Slate roof tiles are available in several colours and textures, which you can also combine to suit your roof design goals. Full customization is possible because the slate shingles can be hand-shaped into a desired thickness or size. A slate roofing system is ideal if you want to retain characteristics of your Portsmouth property distinctive to its age.
Do You Need Help ?
Call Us Now On
Free Professional Pre- Installation Roofing Survey For Your Portsmouth Home
Your current roof will undergo a thorough inspection in order for A1 Roofing Portsmouth to properly assess your propertys roofing needs prior to commencing with the installation of the new slate roofing system. This is the best way for A1 Roofing Portsmouth to bring out the aesthetic qualities of your home through the help of a new slate roof.
Eco Friendly Roofing System
Because it lasts for a long time, it has minimal impact on the environment. Compared to other roofing materials, it does not require to be replaced every couple of decades or so.
Increase In Resale Value In Portsmouth
Property value naturally increases in Portsmouth with slate proofing due to its durability and the added bonus of making the property more pleasing to the eye. Call one of our warm and helpful customer service representatives today on 023 9309 2347 for a free, no obligation quote.
Strength And Simple Maintenance
One of the toughest stones, slate is also valued as a roofing material due to its fireproof and waterproof qualities. This toughness protects the home inside and out.
All Types of Roofing Work Undertaken
Do You Need Help ?
Call Us Now On
Portsmouth Slate Roofing Solutions From A1 Roofing Portsmouth
A1 Roofing Portsmouth have a wide range of slate roofing solutions our clients can choose from. A1 Roofing Portsmouth clients have the option of using recycled slate tiles if they wish to significantly lower the installation costs as well as minimise environmental impact. If reclaimed slates cannot be used for any reason, we can just as easily source quality slates from our suppliers all over the world. If you urgently need a slate roofing system for your home in Portsmouth, A1 Roofing Portsmouth can help provide quick and effective solution at the best value for money. Call 023 9309 2347 for a free no obligation quote for A1 Roofing Portsmouth slate roofing services and discover for yourself what other property owners have been raving about.